Deep Vein Thrombosis (DVT)
Deep vein thrombosis (DVT) is a concern regarding blood clots in the deep vein
Free Screening
What is deep vein thrombosis?
Deep vein thrombosis, or DVT, occurs when blood clots in deep veins in the legs, thigh, and pelvis regions. Clots can also develop in the arms, though this is rare.
Symptoms and Warning Signs
Some common warning signs of deep vein thrombosis include:
Throbbing and/or cramping in the legs. Sometimes (rarely) in both legs. Cramping usually occurs in the calf or the thigh.

Swelling in one of the legs.

Warm skin around an area that is causing pain to the patient

Hyperpigmentation in the area – looking like red or bronze-colored, darkened skin

Swollen, thick veins that are hard to the touch and feel sore
Treatments
Treatment for DVT encompasses three main goals:
Prevention of clot getting bigger

Preventing blood clots from breaking loose and moving throughout the body to organs like the lungs.

Reduce the chances of another case of DVT
DVT treatment options are similar to general blood clots that can cause health risks.
Blood Thinners stop clots from growing in size; they also stop more clots from forming by reducing the blood viscosity.

Thrombolytics, known as "clot busters," are injected intravenously into the clot. These are used in more severe cases of DVT when other medications have been tried and are not working.

Vein filters can be physically placed into a large vein to stop clots from traveling to the lungs.

Compression stockings are often recommended to reduce blood pooling in the legs, often reducing swelling. They can be worn over a series of years to halt the progression of DVT and improve blood flow when paired with other healthy habits.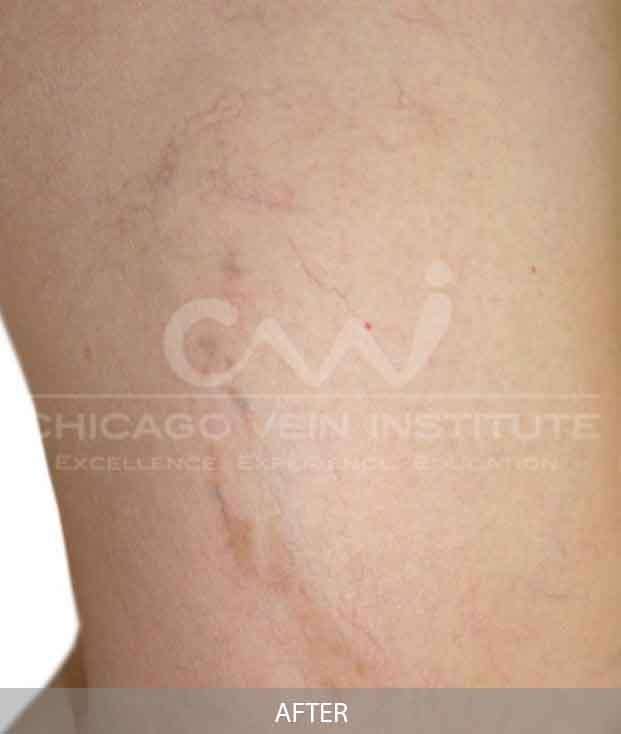 Stop Putting Up With Unhealthy Veins
Healthy, beautiful, pain free legs start with a single step.
Patient Transformations
(spider veins)
Click and drag the slider bar to reveal the life changing results Chicago Vein Institute patients have been able to acheive.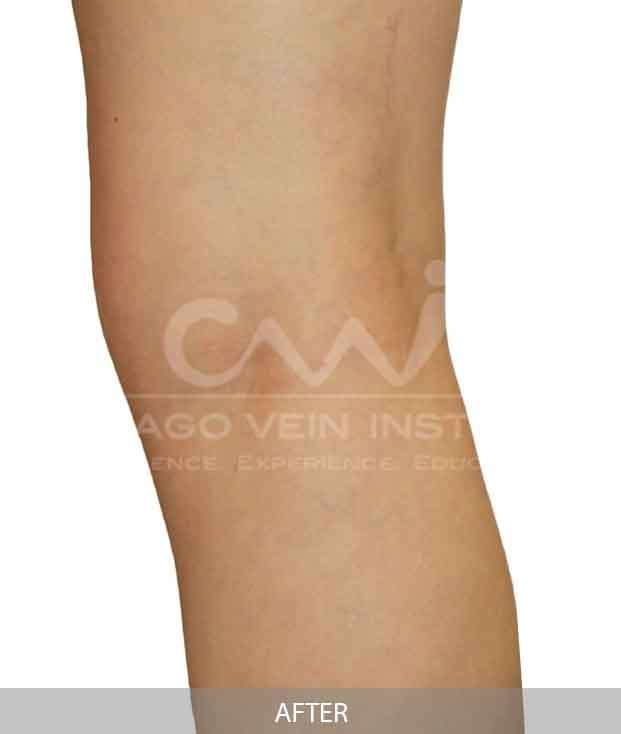 North Center
2333 W. Irving Park Rd.
Chicago, IL 60618
*Free Parking Behind Building
Chicago Vein Institute is a practice solely dedicated to the diagnosis and treatment of vein diseases. The experts at CVI perform the latest and most effective treatments for painful varicose veins, spider veins, and other vein-related disorders. CVI offers minimally invasive treatment options, including Endovenous Laser Ablation (EVLA), Ambulatory Phlebectomy, Ultrasound-Guided Sclerotherapy, Surface Sclerotherapy, Elastic Compression Stockings and wound care for venous ulcers, performing more than 11,000 vein-related procedures annually.