Dermatological Changes
Issues like eczema, hyperpigmentation and atrophie blanche are common skin issues associated with vein disease.
Free Screening
What types of dermatological changes from vein disease are common?
There are several dermatological changes that can take place in the skin in response to vein disease, changing the appearance and texture of the skin in the affected area, some of them are as follows.
Venous Eczema
Venous Eczema or Venous Statis Dermatitis is a form of Eczema that occurs when there is a veinous issue, usually in the legs. It keeps blood from moving through its' intended path and can cause fluid and pressure buildup. When this happens, blood is more likely to leak from the veins and into the skin, causing discoloration.
Venous Hyperpigmentation
Many levels of vein disease cause light-to-moderate and heavy pigmentation changes in the skin, usually of the lower legs. The skin turns a dark reddish-to-bronze color as it darkens.
Atrophie Blanche
Atrophie Blanche describes a type of scarring that occurs in the area of an ulcer after healing. Venous ulcers initially occur due to damage to the veins' valves that control blood pressure. They tend to be recurring, painful, and chronic lower leg ulcers.
Treatment for Skin Discoloration, Eczema, and Hyperpigmentation as a Result of Vein Disease
Skin issues like venous eczema, hyperpigmentation, and atrophie blanche are best treated by addressing the root vein disease that causes them.
Treatment for Skin Discoloration and Other Venous Diseases
Many of the same treatments used to treat vein disease at its many stages are the same that treat the discoloration associated with them. Skin will take some time to heal after treating the root causes.
Examples of vein treatment for diseases that cause skin discoloration are endovenous ablation, sclerotherapy, and phlebectomy.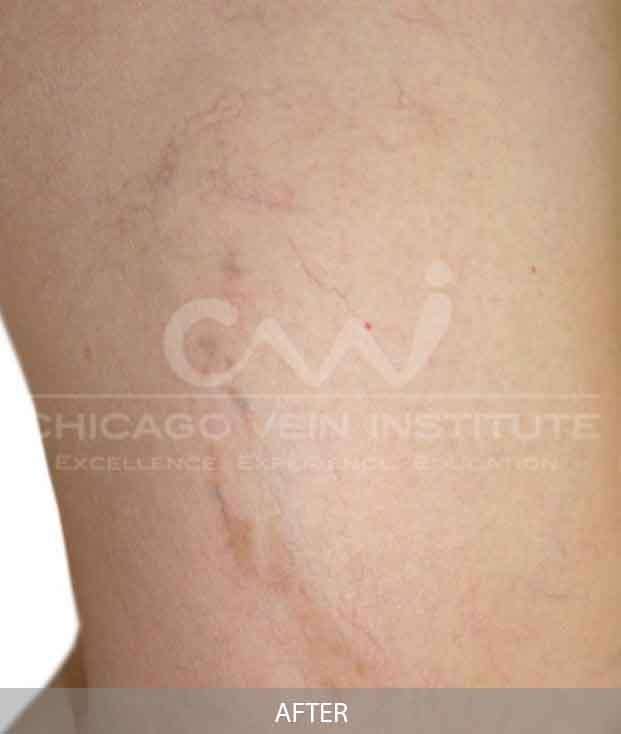 Stop Putting Up With Unhealthy Veins
Healthy, beautiful, pain free legs start with a single step.
Patient Transformations
(spider veins)
Click and drag the slider bar to reveal the life changing results Chicago Vein Institute patients have been able to acheive.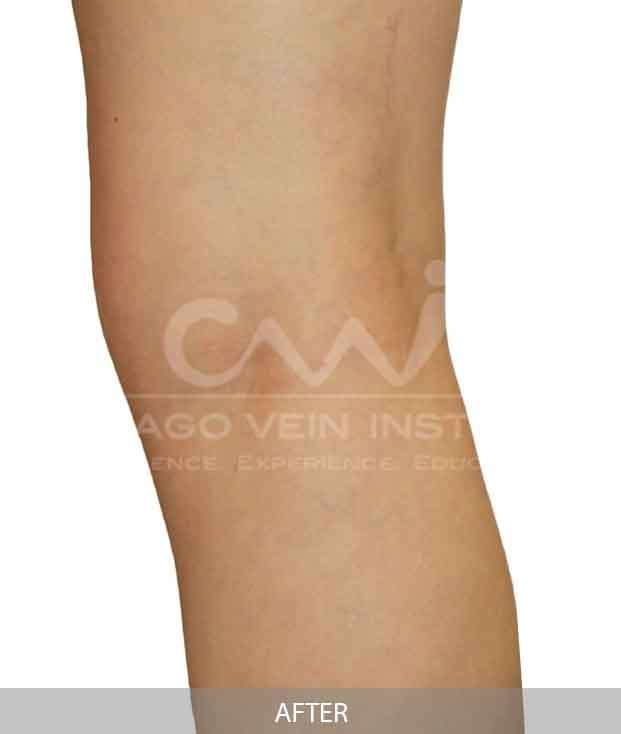 North Center
2333 W. Irving Park Rd.
Chicago, IL 60618
*Free Parking Behind Building
Chicago Vein Institute is a practice solely dedicated to the diagnosis and treatment of vein diseases. The experts at CVI perform the latest and most effective treatments for painful varicose veins, spider veins, and other vein-related disorders. CVI offers minimally invasive treatment options, including Endovenous Laser Ablation (EVLA), Ambulatory Phlebectomy, Ultrasound-Guided Sclerotherapy, Surface Sclerotherapy, Elastic Compression Stockings and wound care for venous ulcers, performing more than 11,000 vein-related procedures annually.