Varicose Veins
Varicose Veins are blood vessels that become noticeable under the skin. It often looks like a knotty, twisted cord and appears mostly on the legs and feet. There are numerous causes for varicose veins. Everything from heredity, obesity, and pregnancy play a part in developing this vein disorder. It is a chronic condition, so once you experience problems with varicose veins, there is always the chance of it reoccurring, even after varicose veins treatment. At Chicago Vein Institute, our doctors and staff specialize in helping patients choose the right treatment to fix their vein disorder.
Non-Invasive Treatments
We start with an ultrasound to provide a descriptive look at your veins, helping us pinpoint the source of the problem and create a treatment plan. Compression stockings, custom fit for your body, are the first line of defense for slowing the progression.
Minimally Invasive Treatment For Varicose Veins
First, we should treat the cause of the varicose veins. Most likely, your issues are related to the major venous system. This can be treated with endovenous laser ablation (ELA).
Depending on the progression of the vein disease, other treatments may need to be implemented, including sclerotherapy and/or phlebectomy. When this happens, you should feel a significant relief in symptoms, improving your quality of life.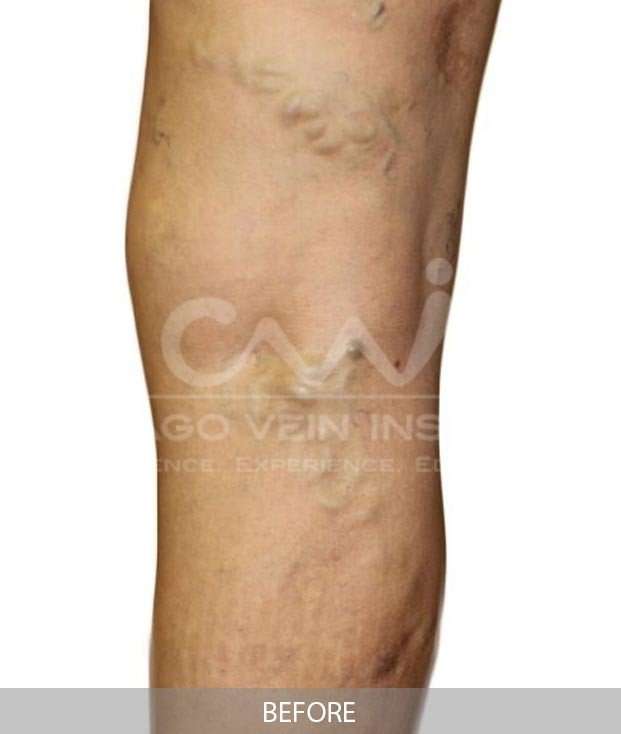 'An Underlying Medical Condition'
Varicose veins are more than a mild annoyance and need specialized varicose vein treatment. They can be a symptom of an underlying medical condition called venous insufficiency. By age 60, this disorder affects about 70% of women and 40% of men. Left untreated, the problem will worsen and it can cause a chronic condition that requires medical attention. Treat vein issues now before they get worse. Turn to Chicago Vein Institute and highly-trained, board-certified phlebologist Dr. Mensur O. Sunje. Dr. Sunje uses the latest, most effective procedures to treat vein conditions safely and successfully.
Varicose vein procedures are typically covered by most insurance plans if they are caused by an underlying medical condition.
Varicose Vein Treatments
We take the time to evaluate your needs and create a customized treatment strategy for you. Dr. Sunje may use one or more of the following techniques:
EVLA™ is a minimally invasive, FDA approved treatment for unhealthy veins. Under local anesthesia and with the assistance of ultrasound…
Ultrasound-Guided Sclerotherapy uses an ultrasound and fine gauge needle to inject a small amount of special medication into the damaged veins…
Ambulatory phlebectomy is a method of removing large, bulging varicosities. The procedure is performed under local anesthesia in our offices…
North Center
2333 W. Irving Park Rd.
Chicago, IL 60618
*Free Parking Behind Building
Chicago Vein Institute is a practice solely dedicated to the diagnosis and treatment of vein diseases. The experts at CVI perform the latest and most effective treatments for painful varicose veins, spider veins, and other vein-related disorders. CVI offers minimally invasive treatment options, including Endovenous Laser Ablation (EVLA), Ambulatory Phlebectomy, Ultrasound-Guided Sclerotherapy, Surface Sclerotherapy, Elastic Compression Stockings and wound care for venous ulcers, performing more than 11,000 vein-related procedures annually.