EVLA Procedure: Effective for Varicose Veins
Chronic Vein Disorders (CVDs) are common problems caused by venous hypertension, most often in the legs. There are many different options for treatments of this type of disorder. Endovenous Laser Ablation is the latest in minimally invasive tech used to treat vein issues. The EVLA procedure is a non-surgical laser treatment for varicose veins.
Vein treatment options include conservative management approaches or total elimination of these dysfunctional vein pathways with endovenous (inside the vein) techniques or surgery. EVLA is an attempt at treating the same issues like varicose veins, but without the need for injections or surgery, minimizing downtime and making procedures less intense.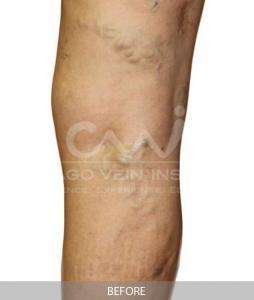 Full Varicose Vein Before & After Gallery
What is the EVLA Procedure?
EVLA is a minimally invasive, FDA approved treatment for insufficient varicose veins. Under local anesthesia and with the assistance of ultrasound, a laser catheter is inserted into the saphenous vein through a tiny (1-2 mm) opening. The laser is slowly heated and seals the damaged vein as the catheter is withdrawn. The procedure takes about 45 minutes and leaves no visible scars. Chicago Vein Institute performs over 1,000 EVLAs annually.
Some of the benefits of Endovenous Laser Ablation (EVLA) include:
No downtime
No scarring
Yields immediate results
Can be done on all skin types
Performed in the doctor's office
Minimal postoperative pain and discomfort
How does it work?
EVLA begins with an ultrasound of the area to map the veins and choose wisely on where lasers will be targeted. Once this is completed, a felt pen is used to lightly mark the area, to ensure max precision.
Local anesthesia is used to numb the area. Once that happens, a laser fiber can be inserted into the vein through use of a small needle. It is passed throughout the length of the vein that is in view. The fiber heats and damages the vein just enough for it to close and disappear from the skin.
To find out if the EVLA procedure is the right one for what you're looking for in regard to vein health, get in touch with us to request an appointment today.
North Center
2333 W. Irving Park Rd.
Chicago, IL 60618
*Free Parking Behind Building
Chicago Vein Institute is a practice solely dedicated to the diagnosis and treatment of vein diseases. The experts at CVI perform the latest and most effective treatments for painful varicose veins, spider veins, and other vein-related disorders. CVI offers minimally invasive treatment options, including Endovenous Laser Ablation (EVLA), Ambulatory Phlebectomy, Ultrasound-Guided Sclerotherapy, Surface Sclerotherapy, Elastic Compression Stockings and wound care for venous ulcers, performing more than 11,000 vein-related procedures annually.