Endovenous Laser Treatment (EVLT)
A laser-based varicose vein treatment, EVLT is being used for those who prefer less-invasive options for varicose vein removal.
Free Screening
What is EVLT (Endovenous Laser Treatment)?
Endovenous laser varicose vein surgery, or EVLT for short, is a treatment using laser-generated heat to reduce the size and appearance of varicose veins. Almost everybody knows somebody who has dealt with problems like varicose veins. Vein stripping is an effective way to treat varicose veins, but EVLT is less invasive and has no downtime, often making it a preferred method of treating varicose veins.
Endovenous laser therapy, also known as endovenous laser treatment, is an effective procedure that is able to treat varicose veins on an outpatient basis.  EVLT therapy utilizes heat generated by a laser to help close the vessels, which will eventually become scar tissue.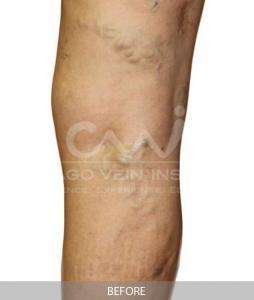 What Patients can Expect
EVLT may not be recommended for every patient. At your first consultation, a vein specialist will go over all varicose treatment Alternatives and recommend the best one to fit your situation. This discussion is also going to address all of the risks associated with any type of varicose vein treatment.
 The EVLT procedure is minimally invasive and takes less than an hour in most cases. After the area being treated as of an antiseptic, The Physician will administer local anesthetic to reduce any pain felt during the procedure.
 A small needle is placed into the vein and a laser fiber is ran through it.  We guide our needles with the use of ultrasound to increase precision and monitor the area throughout the procedure. This will make sure that all of the positionings is 100% accurate.  When the laser is fired, she will shrink the vein until it can no longer transport blood, reducing it from View and closing it. The healthy veins around the closed vein will pick up the workload.
This is a minimally invasive procedure and patients are encouraged to get up and move around soon after the procedure is finished. There can be some mild bruising and a feeling of tightness in the area. patients are usually able to go right back to work the same day and get back to their normal activities without any downtime needed.
If you are interested in endovenous laser treatment for varicose veins, you can get in touch with us at Chicago cosmetic Institute. We will be happy to set up a consultation for you to scream the veins, assess any issues, and decide whether or not you are a good fit for EVLT therapy.
North Center
2333 W. Irving Park Rd.
Chicago, IL 60618
*Free Parking Behind Building
Chicago Vein Institute is a practice solely dedicated to the diagnosis and treatment of vein diseases. The experts at CVI perform the latest and most effective treatments for painful varicose veins, spider veins, and other vein-related disorders. CVI offers minimally invasive treatment options, including Endovenous Laser Ablation (EVLA), Ambulatory Phlebectomy, Ultrasound-Guided Sclerotherapy, Surface Sclerotherapy, Elastic Compression Stockings and wound care for venous ulcers, performing more than 11,000 vein-related procedures annually.